Discover the Best Online Business Courses of 2023
So, you're eager to sharpen your business acumen or turn a brilliant idea into reality, huh? You're in good company!
With a staggering 70% of people preferring online learning over physical classrooms1, the demand for valuable online education is crystal clear.
But let's face it – finding the best online business courses is easier said than done. But thanks to your curiosity, you've landed at the right resource!
I've sifted through the digital haystack and crafted a comprehensive guide covering most online business courses this year worth looking into.
Expect to uncover insights on entrepreneurship and startup essentials, dig deep into digital marketing, and we'll delve into specialized online business courses, like E-commerce, affiliate marketing, and freelancing.
No fluff, just the stuff that matters. Let's get to the list!
What Are The Best Online Business Courses?
These are the best online business courses organized into five main categories.
Specialized online business courses
Entrepreneurship and startup essentials
Digital marketing mastery
Business strategy and management
Free online business courses worth checking out
Specialized Online Business Courses
Specialized online business courses are tailored to specific niches and skills.
These courses provide focused, in-depth knowledge and training, allowing you to become an expert in a particular area. They also offer valuable industry experience and practical insights necessary to stay competitive in the marketplace.
1. Blog Growth Engine by Adam Enfroy – Grow Your Personal Brand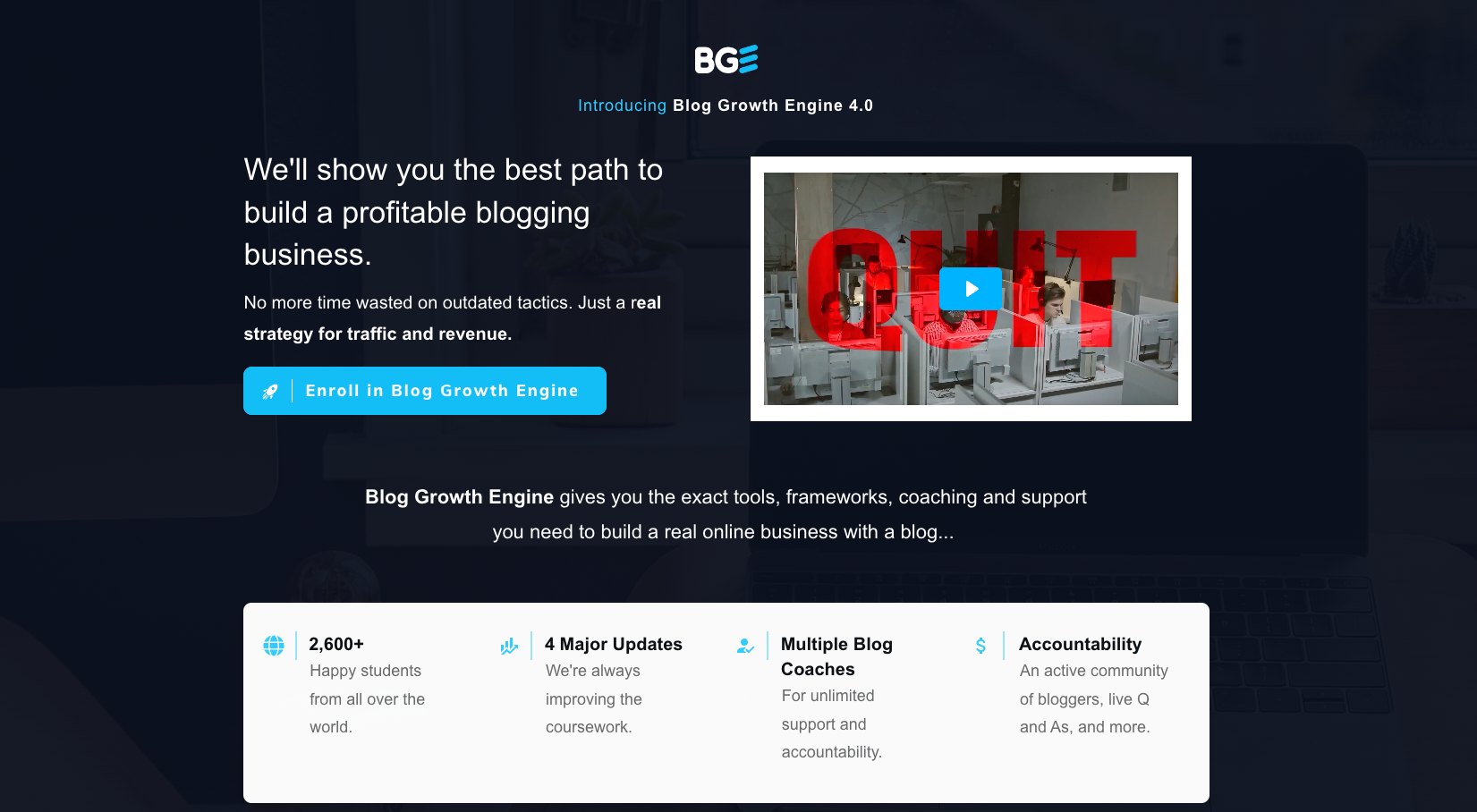 If you want to grow your brand and increase your income, look no further than Adam Enfroy's Blog Growth Engine.
This online course teaches you how to create a blogging-based business with content that drives organic traffic and converts leads into customers.
Let's explore the features of this comprehensive course for aspiring bloggers and exciting businesses alike.
A comprehensive curriculum
The Blog Growth Engine covers everything from:
Easily finding profitable niches
How to properly do keyword research
Getting you set up with WordPress and a web design
Creating high-quality content
How to do SEO for yourself and your clients
Link-building strategies like startups do
Scaling and outsourcing work to virtual assistants
How to become a legitimate business owner
To learn more, read my comprehensive Blog Growth Engine review for an in-depth look.
This comprehensive course features over 50 hours of videos packed with actionable guidance and easy-to-follow instructions.
Best in class supportive community
Enrolling in the Blog Growth Engine course gives you access to an exclusive community where fellow students share their experiences, tips, and tricks.
BGE also has an array of full-time coaches supporting all students with roadblocks, weekly live Q&As, and around-the-clock DM responses.
This supportive community provides invaluable networking opportunities and expert advice from successful bloggers who have been through it all before.
Blog Growth Engine by Adam Enfroy is an excellent course for beginners, entrepreneurs, and brands looking to increase their organic content marketing strategies.
2. The Real World – Master Online Marketing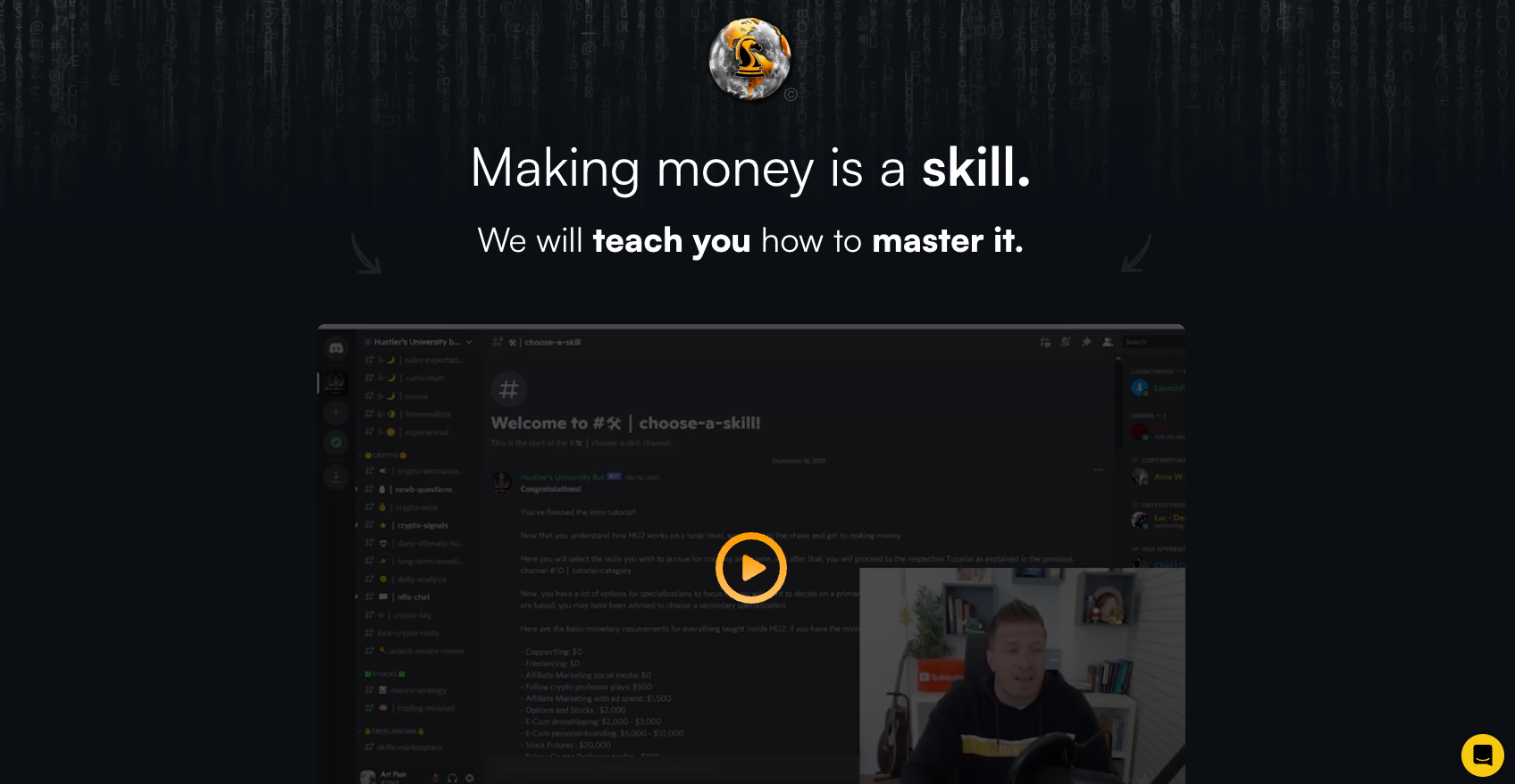 The Real World, formerly known as Hustlers University, is a comprehensive platform covering hot and in-demand skills to make money online.
In other words, you GET access to 19 different ways to make money online!
They have separate campuses for each business model, with multiple professors and apprentices helping students with the course topic.
The Real World has everything from promoting digital products through marketing and sales to social media marketing and setting up shop with Amazon FBA.
This education platform provides the necessary expertise and information to start and launch your business idea quickly, all with the help of a laptop and an internet connection.
Learn E-commerce from real-life mentors
The Ecom campus is the one area where the students make a ton of revenue, directly learning under the professor who himself operates a multi-six-figure Ecom empire. You'll learn everything you need to know, such as:
Finding winning products
Navigating supplier relationships
Optimizing your online store
A vast selection of online business models
TRW also covers other aspects of making money online, such as:
Freelancing
Dropshipping
Cryptocurrency trading and investments
UGC content
Affiliate marketing
Personal finance
Copywriting
Stocks and bonds
It offers comprehensive training on content marketing, sales, and growing brands from the comfort of your home, and there is something to learn for everyone.
Learn more in my The Real World review for all the insider information about this educational platform.
TRW is a fantastic community for entrepreneurs and marketers looking to make money online. No wonder over 200.000+ students stay subscribed month after month.
3. The Affiliate Lab by Matt Diggity – Generate Passive Income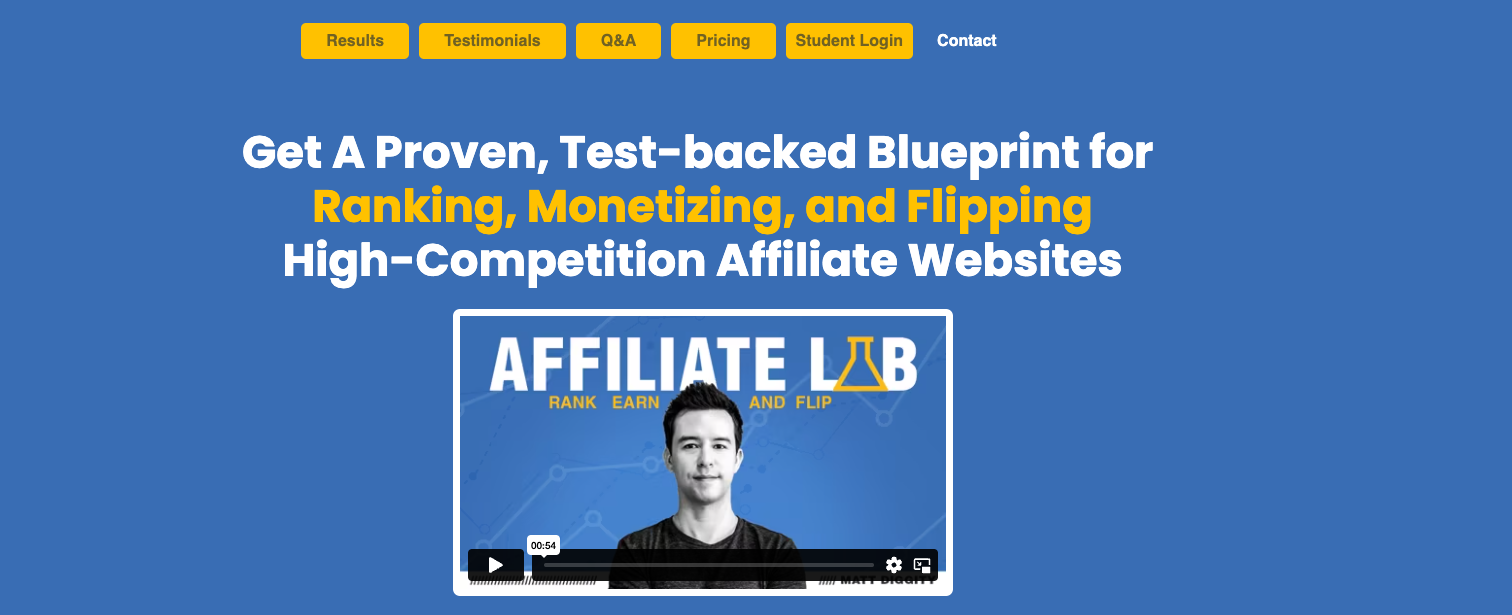 Suppose you want to dive into affiliate marketing and make a significant income online. In that case, The Affiliate Lab by Matt Diggity is an excellent choice.
This comprehensive course covers everything from starting a blog from scratch to flipping websites for profit. Let's explore some key aspects that make this course stand out.
A proven system for success in affiliate marketing
Matt Diggity has developed a proven system based on his years of experience as an affiliate marketer.
His methods have helped countless students achieve success in their online businesses.
Following his step-by-step guidance, you'll learn how to build profitable niche sites that generate passive income through targeted organic traffic, which you can sell for an x20-x35 markup later.
In-depth training modules
Niche Selection: Learn how to choose profitable niches with low competition and high earning potential.
Keyword Research: Discover powerful keyword research techniques to help your content rank higher on search engines like Google.
On-Page SEO: Master essential on-page optimization strategies to boost your site's visibility and rankings.
Off-Page SEO & Link Building: Understand effective off-page SEO tactics and link-building strategies that drive authority backlinks to your website.
Email Marketing & Automation: Create email campaigns that engage subscribers while effectively promoting relevant products or services, increasing conversion rates significantly.
Website flipping mastery
Beyond building profitable niche sites, The Affiliate Lab teaches you how to flip websites for profit. This is Matts's preferred method of generating large sums of income.
Learn the art of buying underperforming sites at low prices, optimizing them using Matt's proven strategies, and selling them for a substantial return on investment after growing them.
With The Affiliate Lab by Matt Diggity, you'll gain all the knowledge and tools needed to succeed in affiliate marketing while working from home.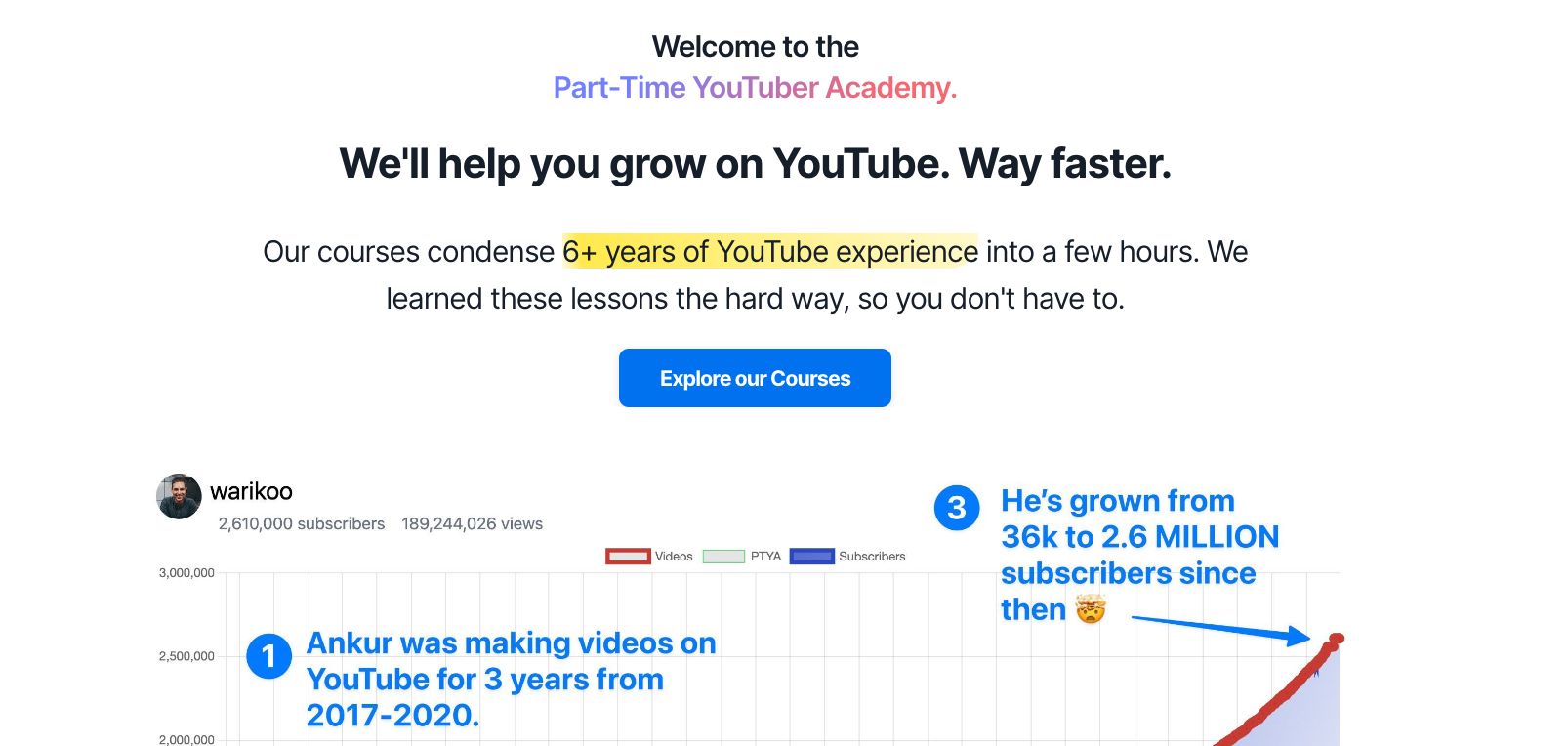 Ali Abdal has built a successful career as a part-time YouTuber with over 1 million subscribers while working as a doctor in the UK.
His experience balancing work and YouTube growth make him an ideal mentor for aspiring creators who want to build their channels without sacrificing other aspects of their lives.
Everything you need to build a brand on YouTube
The Part-Time YouTuber Academy covers all aspects of building and maintaining a successful YouTube channel, including:
Finding your niche and creating engaging content ideas;
Mastering video production techniques such as filming, editing, lighting, and sound;
Growing your audience through effective marketing strategies;
Maintaining consistency in uploads while managing time effectively;
Monetizing your channel through various revenue streams like sponsorships, merchandise sales, and affiliate marketing partnerships;.
An engaging learning experience
This online course offers pre-recorded lessons and live sessions where students can interact with Ali directly during Q&A sessions or group coaching calls.
Additionally, there's access to an exclusive community forum where students can network with fellow creators and share tips or advice.
Many Part-Time YouTuber Academy pupils have had great triumphs in their YouTube ventures, some even switching to full-time content makers.
These success stories serve as a testament to the effectiveness of Ali's teaching methods and strategies.
In short, if you're looking for an informative course to help you build your YouTube channel from scratch or take it to new heights, look no further than Ali Abdal's Part-Time YouTuber Academy!
5. Agency Navigator by Iman Gadzhi – Build Your Agency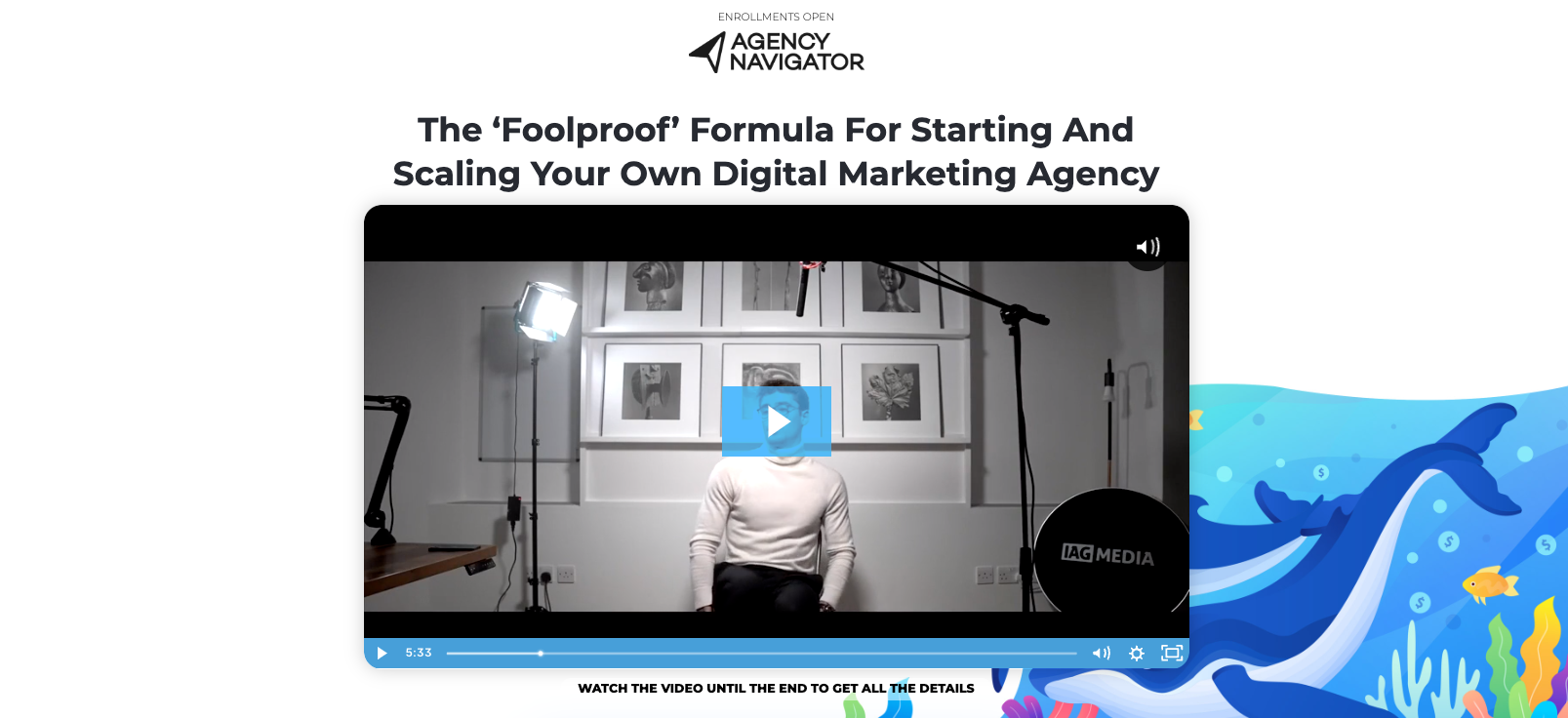 Are you ready to take your marketing agency to new heights?
Look no further than Agency Navigator by Iman Gadzhi, an all-inclusive online course designed for marketers and entrepreneurs looking to grow their agencies and make serious money online.
This course covers everything from client acquisition strategies scaling your business, building a high-performing team, and much more.
Learn from the best in the business
Iman Gadzhi, founder of GrowYourAgency.com and one of the most respected names in digital marketing, shares his wealth of knowledge throughout this incredible course.
Iman's experience and expertise in growing an online business make him the perfect mentor to learn from.
The Agency Navigator offers a step-by-step blueprint that has been proven successful in helping countless students build thriving businesses.
With easy-to-follow modules and actionable advice from industry experts like Iman, you'll be well on your way to creating the agency of your dreams.
Iman is known for having a knack for hiring A+ players that excel, and there is no better mentor to learn this from than the man himself.
Exclusive access to resources & support
Bonus Content: Gain access to exclusive bonus content such as case studies and interviews with other successful agency owners who have followed Iman's methods.
Mentorship & Community: Join an active community where you can network with fellow students while receiving ongoing support through live Q&A sessions with experienced mentors.
Suppose you're serious about making money online and scaling your agency. In that case, the Agency Navigator by Iman Gadzhi is an investment that will pay off in spades.
Take your chance to learn from a top expert and revolutionize your entrepreneurial experience.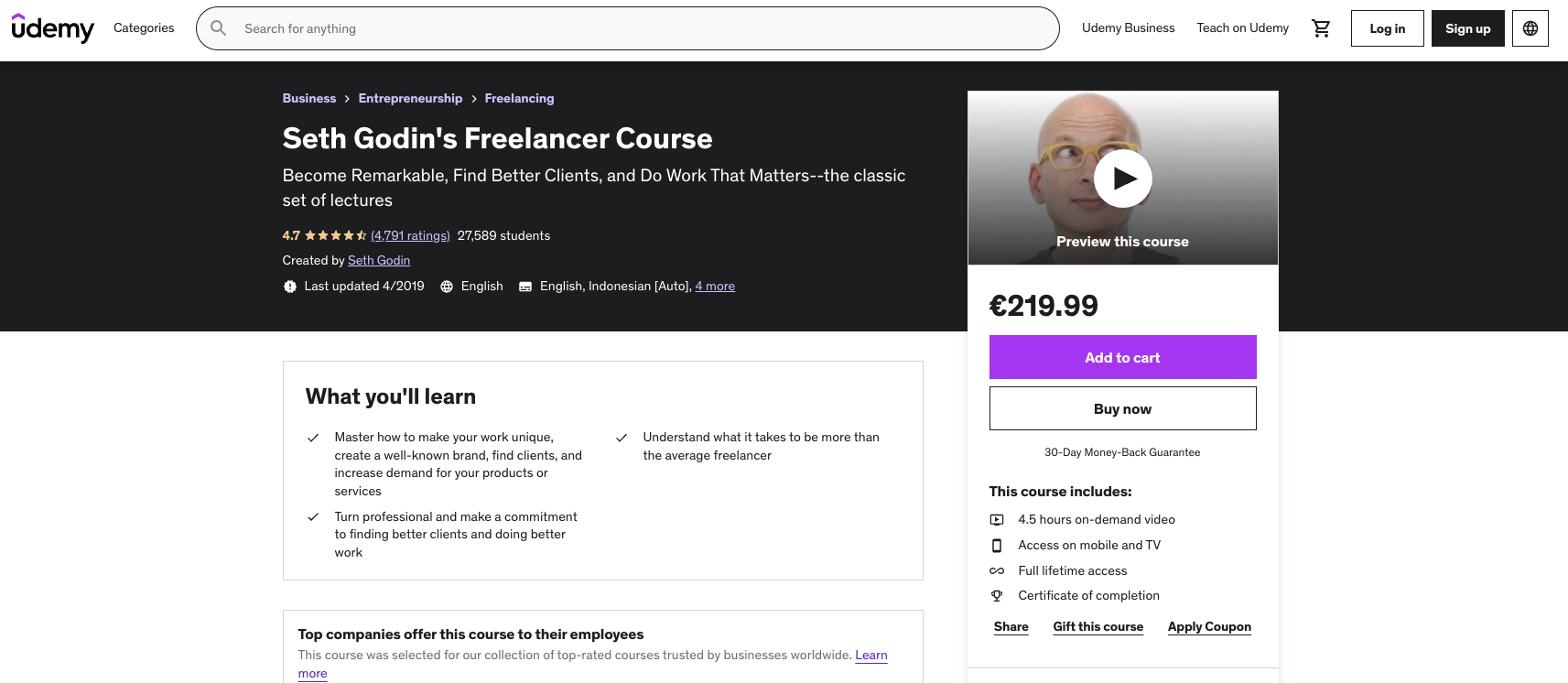 Besides The Real World and the freelancing campus, Seth Godin's Freelancer Course is the ideal way to master the art of freelancing and unlock location independence.
This comprehensive course teaches aspiring freelancers how to find clients, negotiate contracts, and build lasting relationships in the freelance world.
With Seth Godin as your guide, you'll be well on your way to achieving financial freedom while working from home.
Achieve success by finding your niche
The first step towards success in freelancing is finding your niche or the skills in a place you can offer a lucrative payday.
In this course, Seth will assist you in discovering the abilities and qualities that make you stand out from other experts in the industry.
It can be any skill, such as:
Graphic design
Web development
Course creation
Bookkeeping
Data Science
By honing in on your distinct capabilities, it can be simpler to draw in potential customers who need precisely what you have to give.
Mastering client acquisition strategies
Finding new clients can be challenging when starting as a freelancer. However, this course provides proven strategies for client acquisition that will keep your pipeline full of potential projects at all times.
From cold emailing techniques to leveraging social media platforms like LinkedIn or Twitter, plenty of methods are taught within this course.
Negotiating contracts like a boss
Create value-based proposals: Learn how to craft compelling proposals that focus on delivering value rather than just listing services offered.
Pricing strategies: Discover various pricing models and choose one that best suits both parties involved without compromising profitability.
Tackle scope creep: Understand how setting clear boundaries and expectations can prevent scope creep, ensuring you don't end up working for free.
Maintaining solid relationships with clients is crucial to the success of any freelancer, and Seth teaches you how to communicate effectively, manage expectations, and deliver exceptional results that keep your clients coming back for more.
By mastering these skills, you'll increase client retention and gain valuable referrals from satisfied customers!
7. Amazon Boot Camp 4.0 by The Selling Family – Make Money On Amazon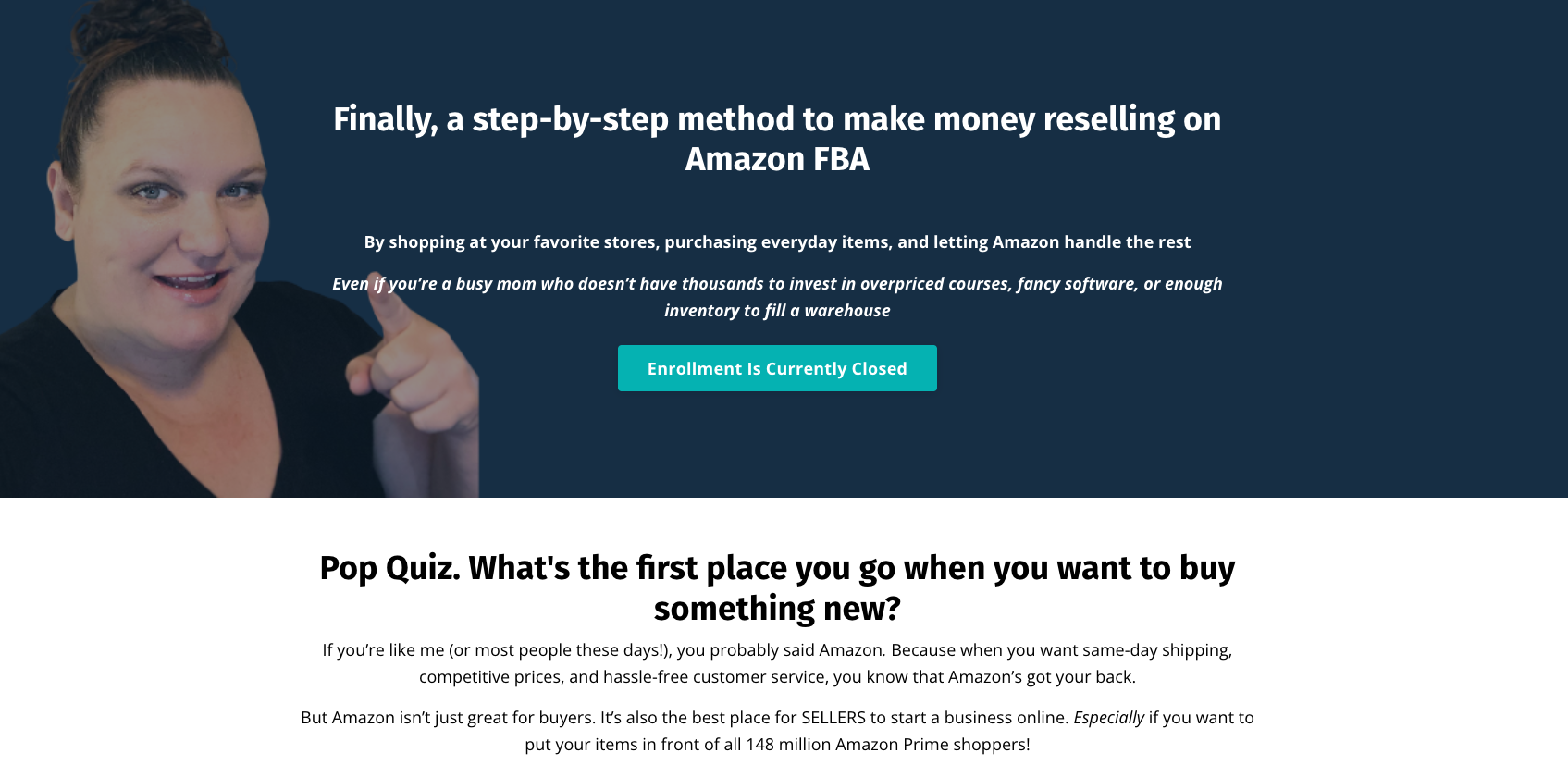 Suppose you've ever dreamed of making money online by leveraging the power of the world's largest e-commerce platform.
In that case, Amazon Boot Camp 4.0 is just what you need. This comprehensive course will teach you everything there is to know about setting up profitable campaigns and selling products on Amazon.
A guide to selling on Amazon FBA
In this course, Jessica Larrew from The Selling Family takes you through a step-by-step process covering every aspect of starting your successful business using Fulfillment by Amazon (FBA).
This course has everything from product research and sourcing to listing optimization and marketing strategies.
Product Research: Learn how to find high-demand products with low competition that are perfect for selling on Amazon.
Sourcing Products: Discover various methods for finding suppliers and purchasing inventory at competitive prices.
Listings Optimization: Master creating compelling listings that drive traffic and convert visitors into buyers.
Pricing Strategies: Understand how to price your products competitively while maintaining healthy profit margins.
Fulfillment Options: Explore FBA vs. FBM (Fulfilled by Merchant) fulfillment options to choose which works best for your business model.
Bonus resources & ongoing support
The value continues once you complete the Amazon Boot Camp 4.0 core lessons. The course also includes a wealth of bonus resources, such as:
A private Facebook group where you can network with other Amazon vendors and inquire questions is included in the Boot Camp 4.0 package, alongside various extra resources.
A library of pre-recorded webinars covering advanced topics like wholesale sourcing, brand registry, and more.
Email support for any questions or concerns that may arise during your journey.
Amazon Boot Camp 4.0 is ideal for those seeking to make money online through Amazon FBA.
Entrepreneurship Courses
Launching a successful business requires a combination of skills, knowledge, and determination.
Entrepreneurship and startup essentials courses are designed to equip you with the tools and insights to turn your business ideas into reality.
These courses cover everything from validating your business concept and crafting a compelling business plan to securing funding and managing day-to-day operations.
Some highly recommended courses in this category include:
The SBA course
Business Foundations course from the University of Pennsylvania
The Professional Certificate for Entrepreneurship at the University of Calgary
These courses provide a comprehensive overview of essential business skills, from effective communication and audience analysis to storytelling and human resources.
Several specialized courses are available for those looking to dive deeper into specific aspects of starting a business.
For instance, "The Successful Entrepreneur Mindset Makeover" focuses on cultivating the mindset and habits of successful entrepreneurs, while "Call-To-Action" teaches the power of effective copywriting with instructor Ramit Sethi.
If you're interested in launching an online business or e-commerce store, courses like "E-commerce Essentials" and "Amazon Store Management" guide you through the process of finding a profitable niche, setting up an online store, and driving sales.
These courses offer a step-by-step approach to building a successful online business backed by real-life examples and industry insights.
Digital Marketing Courses
Mastering digital marketing strategies is crucial for entrepreneurs and professionals looking to grow their businesses.
Digital marketing mastery courses teach the latest techniques and best practices in SEO, content marketing, and email marketing.
These courses can help you develop the skills necessary to promote your business online and drive customer engagement effectively.
Some top courses in this category include:
Content Marketing: Writing for Growth by Eric Siu
The University of Maryland's digital marketing course
The Digital Marketing Full Course by Reliablesoft Academy
These courses provide comprehensive insights into various aspects of digital marketing, from crafting engaging content and optimizing websites for search engines to leveraging email marketing for customer acquisition and retention.
Master MailChimp for Your Business by Paul Jarvis is another excellent course focusing specifically on email marketing, guiding you through building and managing your mailing list, creating effective email campaigns, and analyzing performance.
For those interested in exploring social media marketing, Northwestern University's Social Media Marketing Specialization is a highly recommended course that delves into the nuances of various social media platforms and strategies for engaging audiences.
Business Strategy and Management Courses
Business strategy and business management courses are essential for business professionals and entrepreneurs seeking to advance their careers.
These courses delve into decision-making, risk assessment, and effective management techniques, providing the knowledge and skills needed to excel in the competitive business world.
Notable courses in this category include:
The Advance Your Business course
Contract Law for Business
The Digital Business Strategy program
These courses offer a comprehensive business strategy and management overview, teaching you how to analyze financial statements, evaluate competitive advantages, and make informed decisions.
Several specialized courses are available for those looking to hone specific skills or deepen their knowledge in a particular area
For instance, the Financial and Managerial Accounting course from MIT provides an in-depth understanding of financial accounting principles and practices. In contrast, the Google Project Management Certification course equips you with the skills needed to manage projects effectively.
The Habit of Ferocity, a course focused on developing a relentless drive for success, and the Oxford Organizational Effectiveness Programme, which teaches effective organizational management strategies, are also excellent options.
These courses help you develop the business skills and mindset needed to excel in your chosen field.
E-commerce and Online Retail Courses
The e-commerce and online retail sector has witnessed tremendous growth in recent years, and with this growth comes the need for specialized knowledge and skills.
Courses in this area focus on teaching you how to start and grow an e-commerce business, including setting up an online store, sourcing products, and executing effective marketing strategies.
Popular courses in this category include Amazon Store Management, which teaches you how to build a successful business by selling your products on Amazon, and The Essential Guide to Making Apps Without Prior Experience, which guides aspiring app developers through the process of creating and selling apps for up to $5,000 per month.
Another noteworthy course is Make Your Own App: No Coding Required, taught by Carter Thomas. This course provides a step-by-step process for creating your app without coding experience, allowing you to tap into the lucrative app market and generate passive income.
These courses offer practical, actionable advice backed by real-life examples and industry insights, helping you build a profitable online business.
Freelancing and Remote Work Courses
The rise of the gig economy and remote work has created new opportunities for professionals seeking greater career flexibility and autonomy.
Freelancing and remote work courses are designed to help you transition from traditional employment to working independently, covering topics such as finding clients, setting rates, and managing projects.
Recommended courses in this area include Work Remotely: Thrive in a Job From Home, which teaches you how to create a successful remote office, and various blogging courses that offer insights into building a side business through content creation and promotion.
These courses provide practical advice and resources to help you navigate the challenges of working independently and build a successful freelance career.
Free Online Business Courses Worth Checking Out
While many online business courses require an investment, plenty of free options are available for those looking to gain valuable knowledge and skills with a free online business course.
From renowned institutions like Harvard Business School to industry-leading platforms like Coursera and Udemy, numerous free alternatives are worth exploring.
Free courses usually only give you access to the fundamentals, such as video lessons, articles, and homework assignments, and these features may not be as comprehensive as those of a paid course.
Examples of free online business courses include:
Coursera's Introduction to Business course
Harvard Business School's Introduction to Business course
Udemy's Introduction to Business course
These courses provide a solid foundation in business concepts and skills, allowing you to enhance your professional portfolio without incurring additional costs.
Online Business Course Platforms and Institutions
Numerous platforms and institutions offer online business courses catering to professionals and entrepreneurs.
Popular options include:
Coursera
edX
FutureLearn
Udemy
LearnWorld
Thinkific
Kajabi
Canvas
Network
Cognitive Class
Iversity
These platforms provide access to courses from leading universities, organizations, and industry experts, ensuring a high-quality learning experience.
Coursera is known for its wide range of courses from top universities and companies, while EdX offers courses from leading universities and organizations like Harvard, MIT, and Microsoft.
FutureLearn partners with renowned universities and organizations to provide a variety of courses, and Udemy hosts courses from experts in various fields.
Thinkific, Kajabi, and LearnWorlds are popular platforms for creating and selling online courses, allowing experts to share their knowledge with a global audience.
Canvas Network, Cognitive Class, and Iversity also offer courses from leading universities and organizations, providing learners access to high-quality educational content
How to Choose the Right Online Business Course
To choose the best course for your needs, start by self-assessing your strengths and weaknesses and the high-income skills you'd like to develop.
When evaluating potential courses, consider the topics covered, the qualifications offered, and the institution's or instructor's reputation (this is key).
Ensure the course aligns with your goals and addresses gaps in your knowledge or skills.
If you're already an expert in one area, such as public speaking, consider focusing on courses that complement your existing skills, such as business accounting and finance.
This will help you develop a well-rounded skillset and increase your overall marketability as a professional.
And consider the format, length, and cost of the course. Ensure that the course fits within your budget and schedule and provides the instruction and resources required to achieve your goals.
The Benefits Of Online Business Courses
The world of online business courses offers many options for ambitious high-value men seeking to grow their businesses and careers. These are the top benefits of investing in a paid course.
1. Flexibility
With high-quality, flexible instruction at affordable prices, these courses provide you with the foundation you need to launch or scale your online business. With the ability to learn part-time and at your own speed, you can balance your education with your personal and professional commitments.
This flexibility is particularly beneficial for busy professionals and entrepreneurs who may not have the time to attend traditional classes.
2. Variety
Online business courses are designed to cater to a diverse range of professionals, from aspiring entrepreneurs to established business owners and managers.
The options are plentiful from top business schools like Wharton and Harvard to industry-leading platforms like Coursera and Udemy.
3. Affordability
In addition to flexibility, online business courses are often more affordable than traditional degree programs, making them an attractive option for budget-conscious learners.
Many courses also offer professional certificates and project management certifications, which can help you stand out in the job market and enhance your career prospects.
Frequently Asked Questions
What courses should I take to run my own business?
To run your business, consider taking budgeting, finance, accounting, marketing and sales courses, project management, networking, leadership and delegation, communication, digital and social media marketing, entrepreneurial financing, new venture development, business law, and sales management.
Can you learn business online?
You can absolutely learn business online with online courses, certificate programs, and other resources. These options offer flexible learning and control over professional development, allowing you to hone your skills without sacrificing too much time or money.
Online courses, certificate programs, and other resources provide a great way to learn business without attending a traditional college or university. You can learn at your own pace.
How to learn about business?
Gain business knowledge and start as an entrepreneur by starting small, modeling after successful people, enrolling in courses to learn new skills, mastering marketing, meeting other entrepreneurs, identifying a product niche, and becoming an intern.
To stay current, read business publications and podcasts, pursue a degree, gain industry experience, collaborate with others, and enroll in online courses or certificate programs.
How do I choose the right online business course for my needs?
Take some time to assess your skills and needs, then weigh each course option's topics, qualifications, and reputation to find the right one for you.
Wrap Up
And just like that, we've reached the finish line of our exploration! We've covered a lot of ground, learning about the best online business courses.
Before we wrap up, here's a cherry on top – don't overlook the growing trend of 'learning by doing' or Project-Based Learning (PBL) in online courses.
Did you know learners retain 90% of what they learn when they apply it to a realistic project2? That's a pretty hefty amount of knowledge sticking with you for the long haul!
So, to all you lifelong learners and dream chasers, rest assured that the right course awaits you in the vast universe of online education.
All you need to do is take that plunge – deep dive into knowledge because the world is your oyster in learning.
So, keep exploring, learning, and, most importantly, growing!