7+ Best Digital Notepad and Electronic Notebook of 2022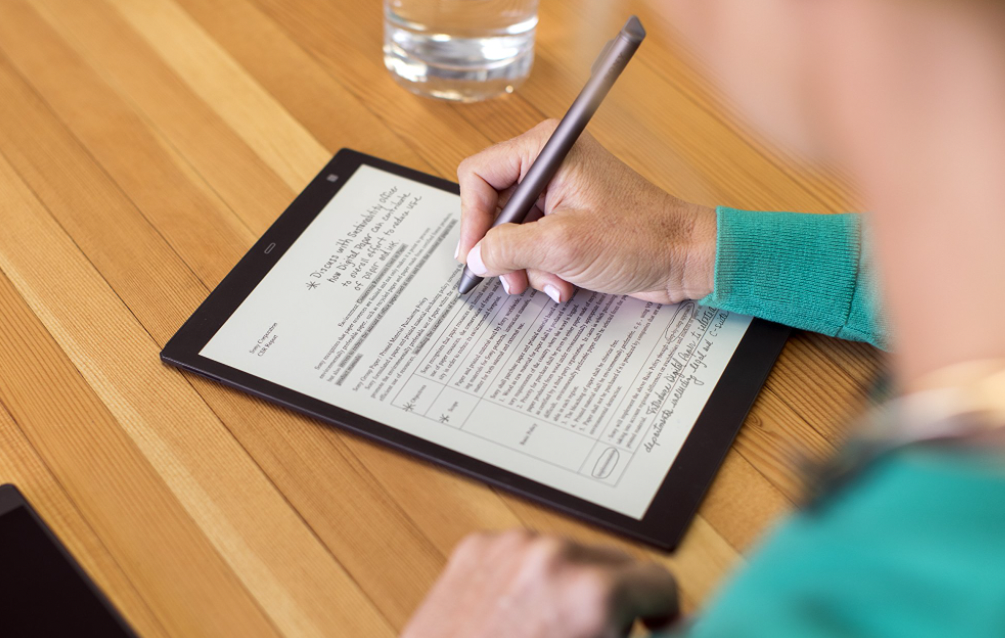 The digital age has made it possible to do anything from anywhere, and this is especially true with a digital notepad.
Nowadays, digital devices are the norm for many people, whether they are for writers, artists, or gamers.
One of the most important pieces of tech that you can own is an electronic notebook due to its power of organizing your thoughts, daily tasks, and goals.
It makes your life so much easier by allowing you to build a "second brain" instead of trying to store everything in your head.
And something magical happens when you can offload what's on your mind and keep it organized in one place.
Suddenly you start to think more clearly, get inspired by new thoughts, or draw wisdom from your experiences and mistakes, it's an essential piece of tech.
In this post, I'll walk you through the best electronic notebooks that you can get your hands on today!
What is the best digital notepad?
Below are my top picks for the best digital notepads that bring tons of value to your creative productivity.
⸻
Best Overall Digital Notepad and E ink Reader
Best For: Using outdoors in direct sunlight
Price: $509
Customer rating: ⭐⭐⭐⭐
Reading books on your tablet or smartphone is nice, but it's not the same as reading a real book outside due to the glare and low brightness.
The Amazon Kindle and other e-readers are great for that, but they don't allow you to make handwritten notes at all, they are just readers.
What if you could combine the two, an e-reader with a digital notepad?
That is exactly what the BOOX Note Air 2 digital writing pad solves!
With its ultra-slim body and sleek design, this e-reader is perfect for anyone who wants a high-quality device without having to compromise.
You can take handwritten notes with the embedded stylus anywhere, and the 10.3" screen makes it possible to read books in full glory!
|
According To Reviewers
"Easily the best and most versatile e-Ink device I have used. No subscription needed like the ridiculous 'Remarkable'."
⸻
"The Boox Note Air 2 is a very nice e-Ink e-book reader and note-taker. It has been a great device, and I am extremely happy with my purchase. It is by far one of the best devices on the market today if you ask me."
E Ink screen with a lighting system and double touch control.

Excellent and large E-ink display to make handwritten notes or view comics.

Great for those planning to combine reading literature, working with documents, and viewing comics.

Lightweight, slim, and durable.

Write with a stylus pen.

Have your favorite book always at hand, no matter where you are.

Equipped with the Android 11.0 system (tons of customizability)
|
Compared To The Alternatives
One of the more expensive digital writing pads. However, its features and functionality make it well worth the price.
Try BOOX Note Air 2
⸻
Best Cheap Digital Notepad
Best For: Taking quick notes and simple drawings
Price: $44.99
Customer rating: ⭐⭐⭐⭐
The Boogie Board Blackboard Writing Tablet is a great and easy way to take notes on the fly.
This tablet comes with four templates, so you can find the perfect note-taking style for your needs.
The Blackboard Pen makes it easy to write on the semi-transparent display.
You can easily erase notes either by pressing a button or using the eraser tip on the pen for more precision.
Whether you're working from home, in the office, or teaching school children, this tablet is perfect for almost anyone.
The Boogie Board is a budget-friendly and affordable notepad that's not going to break the bank with its price, just don't expect premium quality as a tradeoff.
|
According To Reviewers
"I bought the Blackboard and I truly enjoy the writing experience. It's like using a marker on a whiteboard. A truly enjoyable experience."
⸻
"I simply LOVE the boogie board! As a preschool teacher, I find it a great tool to get the children to practice their writing … just a click of a button, and it's a fresh start!"
Easy to take notes with and works for sketching.

Comfortable and won't tire your hand or wrist.

Clear and erasable writing surface.

Sleek and compact design with templates.

Lightweight and easy to take anywhere.

Perfect for brainstorming sessions, note writing, teaching children, and more!
|
Compared To The Alternatives
No colors, just a simple blackboard.

You have to manually take pictures with the app to save notes.
Try the Boggie Board Blackboard
⸻
Best Premium Digital Notepad
Best For: Creators and Entrepreneurs
Price: $729
Customer rating: ⭐⭐⭐⭐⭐
The Apple iPad Air is one of the best digital notepads in this article with all of the bells and whistles you'd ever need from an electronic notebook.
It has great functionality, power, flexibility and it comes with a premium retina display.
You can literally do anything on an iPad from:
Organizing your life.

Take notes on the fly.

Creating graphics.

Sketching and coloring.

Working and collaborating.

Relaxing with entertainment.
The Apple iPad Air comes with 10 hours of battery life, built-in WiFi connectivity, and 4G compatibility for all your digital needs.
Apple products can be expensive, but you know what you're getting when it comes to top-quality and the trusted Apple ecosystem.
|
According To Reviewers
"I love Apple products so it's no surprise that I love this iPad, but BOY am I happy!"
⸻
"Fast working, lightweight, perfect screen, fast Touch ID - best deal for that money"
⸻
"Sturdy, very beautiful screen, clear and sharp. Plenty of memory and is easy to use. Taking pictures is a joy. The view is clear and pictures come out sharp and awesome."
|
Why You Should Try Apple iPad Air
A premium digital notepad made for the digital entrepreneur.

Take notes, run an entire online business or sketch and color like an artist.

Super lightweight and built-in WiFi and 4G connectivity.

Awesome retina display quality with vivid colors.

10 hours of battery life per charge.

Essentially a full-blown tablet capable of even video editing.
|
Compared To The Alternatives
A premium device with a premium price, but you get what you pay for.

Not the best to use outside in direct sunlight.
Try the Apple iPad Air
⸻
Best Digital Paper Tablet Experience
The ReMarkable 2 digital notepad is the future of note-taking, with this handy tool you can easily digitize your handwritten notes, making them searchable and easy to access.
ReMarkable is an innovative piece of technology that can be used in many different ways but the main selling point is that it was designed to feel just like writing on paper, but with digital benefits.
The perfect digital device for students, entrepreneurs, and businesses alike, it's lightweight and easy to carry around so you can jot down notes wherever your busy life may take you.
|
Pricing
The ReMarkable is fairly priced and you get a lot for what you pay for, but accessories are not included in the base package.
ReMarkable 2 base unit: $399

Marker (pencil): $49 without the built-in eraser, $129 with eraser

Foolio (cover): $69 for a standard slide-in cover, $119 for a book-style cover
So depending on your choices and if you opt into the "connect program" for $7.99/month you can get a $100 discount on the base unit down to $299.
With connect, you essentially get unlimited cloud storage, Google Drive or Dropbox integration, an extended warranty, and more.
After 12 months of use, you'll land at the same price, $399, but with a year's worth of benefits.
|
Why ReMarkable?
Handwriting is digitally captured in a way that feels natural.

It's perfect for taking notes, sketching ideas, and drawing pictures.

Feels like you're writing on paper.

Saves time and space with digitalized notes so you can focus on what's important.

Capture your thoughts in an instant, and never lose a single note again.

Easily share your documents and sketches with your favorite apps.
If you love the feeling of pen on paper, you'll love ReMarkable. It's the perfect tool for anyone who wants to take handwritten notes that feel just like using a real pen and paper.
With its ultra-responsive ink and smooth pages, ReMarkable makes writing and taking notes a joy.
⸻
Best for Keeping it Analog and Digital
Handwriting notes is great, but when you want to share them with a team or refine your ideas they can feel limiting.
The Bamboo Slate is the perfect tool for anyone who wants to break into the digital world without giving up their analog ways. It lets you take your analog notes and transform them into digital files that are easily shared and refined.
This smart digital notebook allows you to capture handwritten notes on paper using the pen of your choice and then instantly convert those notes into sharable, editable files that can be accessed from anywhere.
It's perfect for teams who need a workspace to collaborate and refine their good thinking together!
|
Pricing
You can pick up a Bamboo Slate for as low as $401 which is a bit high for essentially bridging the gap between analog and digital note-taking.
|
Why Wacom Bamboo Slate?
Quick and easy conversion of analog notes to digital files.

Easily share files with collaborators.

You're not constrained by the limitations of handwriting.

Capture your ideas the way you want to—with a real pen and paper.

Refine and organize your ideas in a single workspace.

Quickly turn handwritten notes into digital files.

Allows for a huge level of creativity
Capturing your handwritten notes and drawings is now easier than ever. The Bamboo Slate Smart Digital Notepad lets you work the way you work best, easily transforming your handwritten notes and drawings into digital, sharable files. You can collaborate, refine and get your ideas moving.
With the Bamboo Slate, there's no need to choose between analog and digital, you get both!
⸻
Best Electronic Notebook Alternative
The Sony DPT-CP1/B is one digital writing pad that delivers a crisp, sharp, and clear high-resolution display, it's Sony after all!
It has great performance and is super lightweight making it easy to take anywhere you want to go. You can use this digital notebook for business or just your day-to-day life.
As with the ReMarkable, the Sony digital notebook has a paper-like texture for an awesome feeling when you read, annotate or just scribble handwritten notes.
It comes with wireless capabilities, Bluetooth, low-glare, and high contrast covering most bases and more when it comes to a premium electronic notebook.
|
Pricing
$899 is not an affordable price for an electronic writing pad, but if you're a business owner who needs to organize your meeting notes and work in general, this Sony model will definitely do the trick for the investment. The price includes the Sony stylus pen as well.
|
Why Sony DPT-CP1/B?
Crisp, clear, and premium high-resolution display.

Super lightweight and easy to take anywhere.

Low glare for comfortable sessions.

Paper-like texture.

Long-lasting battery life, up to a week with WiFi on, 3 weeks WiFi off.

Carry your ideas with you wherever you go for a truly paperless experience.
The nice thing about digital writing pads is that they're incredibly valuable and worth their weight in gold once you really get to grips with how to use it in your daily routine.
You'll save a ton of time and significantly decrease the amount of digital clutter you have to deal with, which is why I think digital notepads are worth their price.
This is a premium "paper tablet", and if you're all for quality then look no further than the Sony DPT-CP1/B.
⸻
It's hard to find a good e-reader that is both slim and durable. Most e-readers are either too bulky or not tough enough to handle everyday use.
Likebook Ares-Note E-Reader is a great solution that is ultra-slim and completely flush with the bezel, making it easy to hold for long periods of time.
It also has a strong internal structure, so you don't have to worry about it breaking easily. Plus, the AI recognition technology automatically converts handwritten notes into text, making it easy to take meeting minutes or write down ideas on the go.
|
Pricing
The pricing for the Likebook Ares-Note is quite reasonable, coming in at around $294. This is a great price for an e-reader that features AI recognition technology.
It might be hard to get hold of one though, as it's sold out on Amazon frequently.
|
Why Likebook Ares-Note?
Lightweight and thin design for easy mobility.

Ergonomic pen grip with a variety of templates to suit your needs.

Share your thoughts instantly, on the go.

Synchronous conversion of handwritten and text.

A variety of templates to help with meeting minutes, schedule management, etc.
Do you like taking notes by hand? If so then with the Likebook Ares-Note, you can take handwritten notes that are automatically converted to text. This makes it easy to share your ideas with others.
The ultra-slim design and flush bezel make this device easy to hold and use. It's perfect for people who want a pen and paper experience with the added benefits of technology.
Plus, the AI recognition technology ensures accurate conversion of handwritten text.
⸻
RoWrite is a smart writing pad that allows you to create and capture notes, drawings, and diagrams with ease. With its pressure-sensitive pen and app integration, it's like having an entire notebook in your pocket!
The RoWrite Smart digital writing pad comes with a stylish folio case for easy storage when not in use. It also has a patented design which makes it so that the paper doesn't tear out of the pad when removing pages or opening up to write on them.
This ensures that all of your work is kept together as one piece instead of being separated into pieces throughout your bag or briefcase.
The paper itself is made from recycled materials to help keep waste down while still providing quality paper for every note-taking session.
It includes 50 sheets each measuring 8" x 10", giving you plenty of space for any idea or sketching session without needing more than
|
Pricing
You can get the RoWrite digital pad for as low as $89.99 which is a steal.
|
Why RoWrite Smart Writing Pad?
Draw, sketch, and write notes on paper or digitally.

Capture ideas quickly on the go.

Keep your notes in sync with all of your devices.

Convert your handwritten notes to text easily.

Share sketches and designs with others easily.

Cheap price.
RoWrite is easy to use and has all of the features you need in a modern-day notepad. You can write, edit, share, and more!
Plus it comes with an awesome folio case so that you don't have to worry about losing any pages or having them get damaged.
The pressure-sensitive pen allows for writing on paper just like how you would normally do it but now digitally as well! And when connected via Bluetooth 4.0 technology the app automatically syncs everything up nicely.
What is a digital notepad?
A digital notepad is an electronic digital device that is designed to function as a paper notepad.
It allows you to take notes, digital sketches, or drawings. Most digital notebooks even come with different types of digital pens that work on the electronic screen almost exactly like writing on paper with a regular ballpoint pen.
The beauty of an electronic writing pad is that you never run out of paper, you can organize your notes, move them around, highlight and delete anything that you don't need.
No more anxiety about writing something wrong or messing up your notes!
Why use a digital notepad?
Digital notepads have almost become commonplace among many different types of people. The main categories for electronic notepad users tend to include students, entrepreneurs, writers/authors, gamers, etc.
There really does seem to be no limit when it comes to the categories of people who love digital electronic notebooks.
One of the most popular uses for a digital writing pad is taking notes in class or during business meetings. A paper tablet makes learning much easier because everything can be seen again later on your computer, tablet, etc., which is much more accessible than your notebook paper where you have to rewrite everything just to see it again.
It is also important to mention that digital electronic notebooks are great tools for people who are parents.
A lot of children these days have trouble doing their homework because they do not enjoy writing on paper with pencils or pens or using old-fashioned computer software which is still very primitive.
Digital electronic notebooks are proven to be much more educational in the long run which means that writing your kid's diary entries on digital notepads rather than paper makes sense too.
To convert handwritten notes to a digital format seem to become more popular each year it can be easy to assume that digital notepads will soon replace most if not all paper notebooks in the future.
The best digital writing pads are affordable, durable, easy to use, and make learning easier too.
What a digital writing pad does is allow you to store digital text in digital format so you can read the digital text in the future when it matters most instead of having to rewrite everything just to see what was written again in the future.
What benefits do you get from a digital notepad?
Do you need a digital writing pad for your business or is it just a personal project?
Maybe you have never considered an electronic notepad before. If so, here are some of the benefits that come from digital notepads:
Keeps you organized
We all know someone who is a bit messy and disorganized either at work or in their home life. Using a digital electronic notebook can help keep things organized.
For instance, if you have an idea for a new product then with the push of a button this digital electronic notebook will record that thought into its memory.
Then when you turn on this digital electronic notebook at a later time you will be able to see this digital electronic notebook.
Portable
If you think carrying around notes on paper is inconvenient, try picking up the digital electronic notebook. You can even transfer the notes from device to device wirelessly thanks to the Bluetooth function built into many digital electronic notebooks.
This enables you to view your files wherever and whenever you need them; something which would be much more difficult if they were still on paper.
Easily searchable
Have you ever wanted to find that doodle of yours that says "Get milk" but are unable because all the papers are mixed together?
Electronic notebooks allow you to easily search for a word or phrase within your digital notepad. So if you need to find that important note again it will be easy.
Saves space and reduces clutter
Digital electronic notebooks help save on space especially if you tend to be the type of person who keeps everything and anything, no more scattered papers, post-it notes, and books lying all around, just one place to keep everything together.
Digital notepads are especially great for this specific reason, as they reduce clutter; whether at home or in the office (or both).
Easier to share and distribute
Instead of trying to find a person who has written something down on paper you can simply send them your digital notes via e-mail, Bluetooth, or wireless transfer.
This lets you easily work together with others without having to sort through several different pieces of paper just to do so.
Looking for ways to get organized? Then using a digital writing pad is one way of doing it.
Wrap Up
An electronic notebook is probably one of the most important possessions that you can have. I can't imagine how I would organize my home or office without this modern marvel.
It not only helps me stay organized but also lets me work with friends and colleagues more efficiently than ever before.
If you are looking for ways to get organized in the new year then maybe it is time that you invest in a digital writing pad of your own!