7+ Best Print on Demand Sites of 2021 (Income For Artists)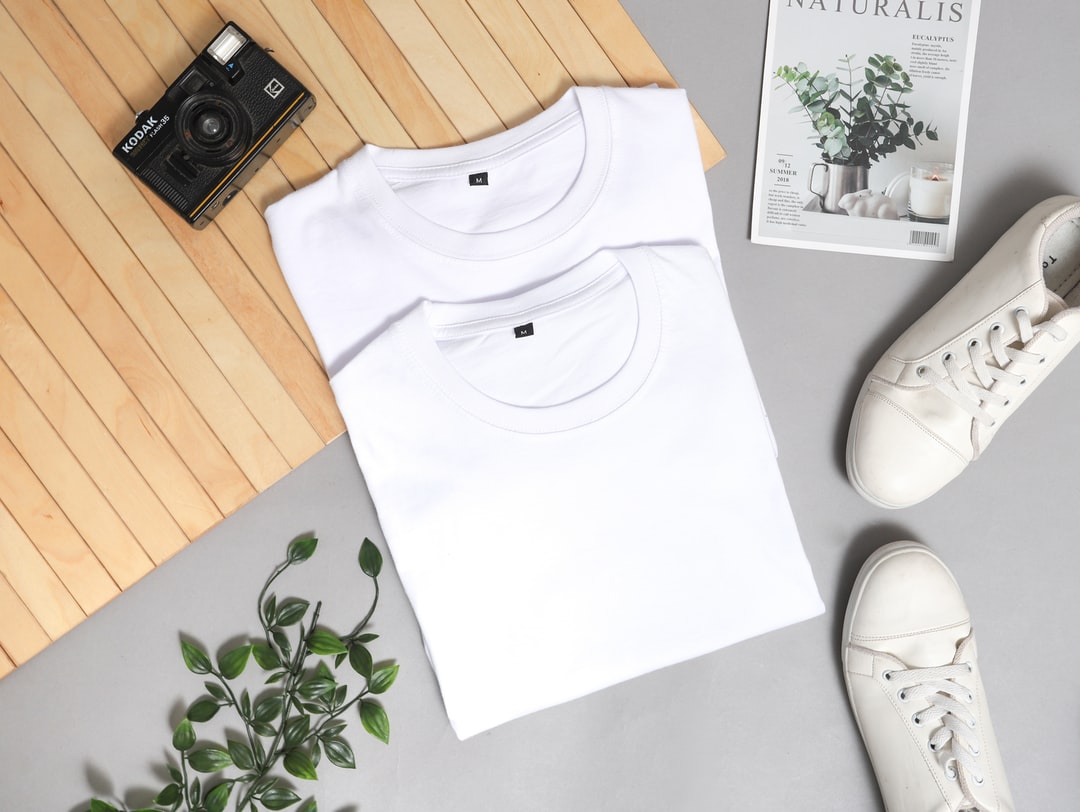 Print on Demand has become a as it allows you to sell custom products without having to buy inventory upfront.

You do not need to worry about the shipping and handling, either.

In this post, you'll find the best print on demand sites of 2021 for designing and selling your own products online.
What are the best print on demand sites?
Here is a list of the top print on demand companies of 2021:
1.
Overview
Printify is a top print on demand company that allows you to sell your own products with no upfront costs or minimum order quantities.

Customize your designs using the easy-to-use editor, set the price, and sell on the Printify marketplace.

Printify takes care of printing and delivery while you focus on creating great designs and making sales!

Highlights
Create products with your own designs or use their templates.

Create products with your own designs or use their templates.

Have your products printed and shipped by Printify.

Expand your business by selling products to the world.

Printify has great customer service and 24/7 availability.



Bottom Line
If you're looking to start selling custom t-shirts online, there are a lot of different print on demand options to choose from.

But if you want to start your own store, one of the best options out there is.

Choose from hundreds of different products and customize them with your own designs.

You can sell t-shirts, phone cases, mugs, and much more. They handle all the printing and shipping for you, so you can focus on the creative side of your business.
2.
Overview
Printful is another one of the top print on demand companies that allows you to create and sell customized products across the world.

Quickly fulfill niche product lines while enjoying benefits like white-labeled branding, global shipping, local fulfillment, and more.

They also have branding capabilities that enable you to create products that are uniquely yours.

Highlights
Print your own t-shirts, phone cases, posters, pillows, and more.

Choose from over 10,000 products, build your own store or use a pre-made theme.

Use your own branding, create Your Own Brand (YOB) or promote a specific product.

Everything is customizable, from the product to the shipping.



Bottom Line
We know that it can be a challenge to get your idea out there and have it turned into a product.

provides you with the tools and services you need to make that happen.

With custom branding, reliable quality, and great design tools, it's no wonder that Printful is rapidly gaining popularity as one of the best print on demand companies out there.
3.
Overview
Redbubble is an online marketplace with print on demand services where independent artists can sell their awesome creations.

These products range from stickers to coffee mugs, to t-shirts. Redbubble has socially responsible production in all of the products that they sell.

This means that Redbubble works with the artists and manufacturers to make sure that they are providing a fair wage for all of the work that goes into making the products.

If you're looking for a new way to sell your art or just some new products, check out the different products that Redbubble has available.

Highlights
A vibrant community of independent artists.

A place to showcase your artwork.

High-quality products.

Redbubble only takes 10% of the profits

Ethically sourced and crafted.

Socially responsible production.



Bottom Line
Purchases pay artists, with over 70 high-quality products and socially responsible production.

Redbubble is working hard to make sure that artists are being paid fairly for their work and production is as eco-friendly as possible.

If you are an artist looking to get your work out there, why not try as your next print on demand service.
4.
Overview
Teespring is a print on demand company that helps you get your designs printed on tees, hoodies, long sleeves, and shipped to anywhere in the world.

You can design a shirt, set a price, make a storefront, promote it on social media, and once it's sold they print it for you and send it out to your customers.

Highlights
No upfront costs

No inventory required

Customize your shirt color, size, style, and what quality the shirt is

Teespring handles the rest – from printing and shipping to customer service

Get your own storefront/website to put your designs on.
Bottom Line
Teespring is a great tool for anyone who wants to get their shirts from design to customer.

If you are not a designer, they have an online design tool that is pretty easy to use, but you're better of just uploading your own designs.

If you want to make some money off your creative ideas, is a solid choice with a custom storefront for your print on demand site.
5.
Overview
Zazzle's easy-to-use print on demand platform offers more than 1000 products and 24/7 customer support to help you sell your designs.

Add your own designs to any product that Zazzle has to offer, whether it's a t-shirt, shower curtain, or even a skateboard, you can customize it however you want.

Create your own brand and make money from selling your products or use Zazzle as a platform to launch your own print on demand business.

Highlights
Design products in minutes and have them printed and shipped in days.

Print your Zazzle products on demand and earn money.

Get your work in front of millions of people.

Zazzle helps you make your designs come to life, with personalized products and apparel.



Bottom Line
When you are looking to sell your designs on prints, Zazzle is a great option.

The website is easy to use, and you can make a good profit on your designs.

Keep in mind that the competition is pretty fierce on, so your designs have to stand out.

This is of course not an issue if you get your own traffic through social media for example.
6.
Overview
Teepublic has always been a place for creators, and they've stayed in business for 15 years already.

From its inception, it was built on the premise that anyone can create and sell high-quality merchandise.

With over 100 different product types to choose from TeePublic is fulfilling that promise as one of the largest print on demand sites.

This unique platform allows you to go beyond t-shirts and get your art on hoodies, notebooks, phone cases, and even mugs!

Highlights
High-quality apparel for a range of industries including gaming, entertainment, lifestyle, sport, and pop culture.

Create a T-shirt, a sticker, a sticker, a hoodie or whatever you want and sell it online.

Teepublic provides a platform for creators to market their work and connects with a global community of fans.



Bottom Line
TeePublic is one of the world's largest print on demand marketplace for creators.

They have a strong focus on the community and work hard to ensure that they provide a positive experience for everyone.

print on demand products ship all over the world and have a low-cost shipping option available.
7.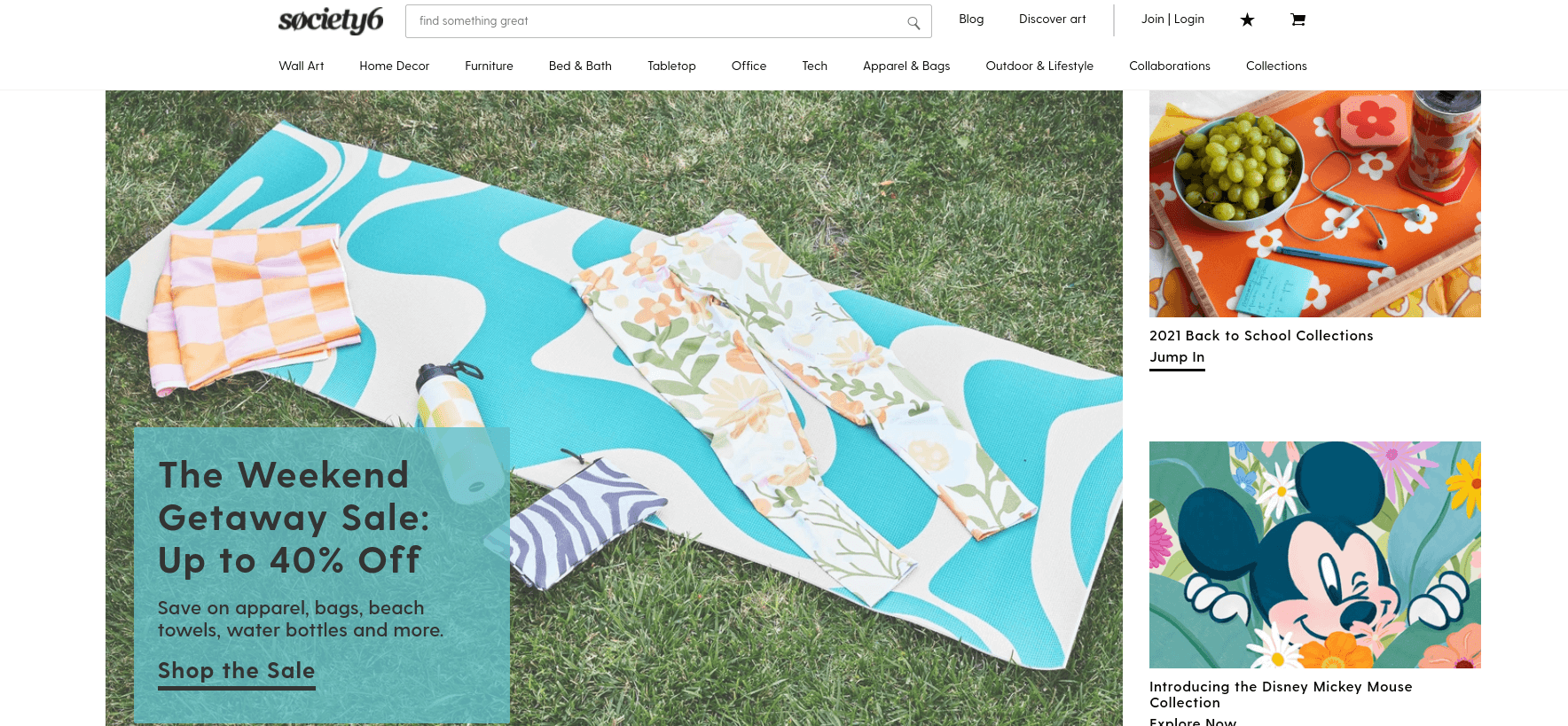 Overview
Society6 is a place to print your art and made it to our top print on demand companies list.

It's a marketplace that brings creators and fans together to sell prints, pillows, apparel, home decor, wall art, and more.

You can upload your own designs and make them available for purchase – either as prints or on products of your choice.

Highlights
Artists can upload their designs, receive orders, and sell their art without having to worry about inventory, fulfillment, or shipping.

Customers can shop thousands of products from Society6, with new products being added daily.

The marketplace is open to artists worldwide. Society6 offers a simple submission process for artists to share their work with millions of potential customers.



Bottom Line
This print on demand company offers artists a place to sell their work to a worldwide audience.

Whether you are a designer, photographer, illustrator, or fine artist, is a great place to start showcase and sell your work.
8.
Overview
Gooten is revolutionizing the way brands are building and running their businesses.

They're doing this by creating a completely new way for business processes to access best-in-class manufacturing services, next-day delivery options, and rich analytics.

Gooten is not just a pure print on demand company, but they are taking businesses to the next level.

Highlights
Gooten is a SaaS platform that connects brands and manufacturers in a unique way by connecting them directly to manufacturers that can produce customized products at scale

Create your own smart supply chain customized for your business

Reduce overhead costs that traditional manufacturing would have.

Handles the complexities of product development and production, ensuring that your product is delivered on time and within budget.
Bottom Line
Gooten is a unique print on demand service on this list due to the fact that they offer products and services that are customized to meet consumer demand in real-time.

They use tech that has been developed and implemented by major online retailers like Amazon, Alibaba, and Zara to eliminate the traditional bottlenecks of supply chain and manufacturing.

In other words, is not just a print on demand company, but your entire product supply chain.
What is print on demand?
Print On Demand is a digital printing technology that allows small quantities of physical products to be printed for a small fee, making the material affordable to consumers.

The technology has created a way for entrepreneurs and designers to start businesses with little overhead costs.

In this article, we've rounded up a list of print on demand websites that make starting a business online much easier.

We've looked for websites that allow you to upload your own designs, change the color and/or size of products, and offer a variety of products for sale.

Frequently Asked Questions
Which print on demand site pays the most?
Your print on demand revenue will depend on things like potential customers, pricing of your products, and how many units you're able to sell, mostly through marketing.

A more accurate question is "which print on demand site has the least manufacturing and additional costs?".

We recommend checking out either Redbubble or Teepspring, as they are entirely free to start and have low costs per unit sold.

Can you really make money with print on demand?
Print on demand can be a great source of income and is just as proven of a business model as eCommerce (even Amazon has this, called merch by amazon)!

However, it's a little more complicated than you first might think.

You have to find a niche that you're going to create products for with enough volume or interest in the topic, and low enough competition that you're able to stand out from the crowd.

Once you do, you'll most likely need to pump out a good amount of designs (think hundreds of designs).

One or two is not enough by a longshot, unless you already have a huge following online, like a massive YouTube channel or Instagram profile.

Which platform is best for print on demand?
We have ranked and reviewed the best print on demand sites in this article, and the top five are:
Printify

Printful

Redbubble

Teespring

Zazzle
Wrap Up
We hope you enjoyed our blog post on the best print on demand companies of 2021.

If you are looking to build an online business using print on demand, or just sell your art online, we hope this information was a good starting point for you.

We encourage you to try out Printify and Printful, as we believe these two sites are the absolute best Print on Demand companies in 2021.

They're both inexpensive and easy to use and it's never been easier to start a print on demand t-shirt business.