13+ Best Microphone for YouTube of 2022 (YouTubers Choice)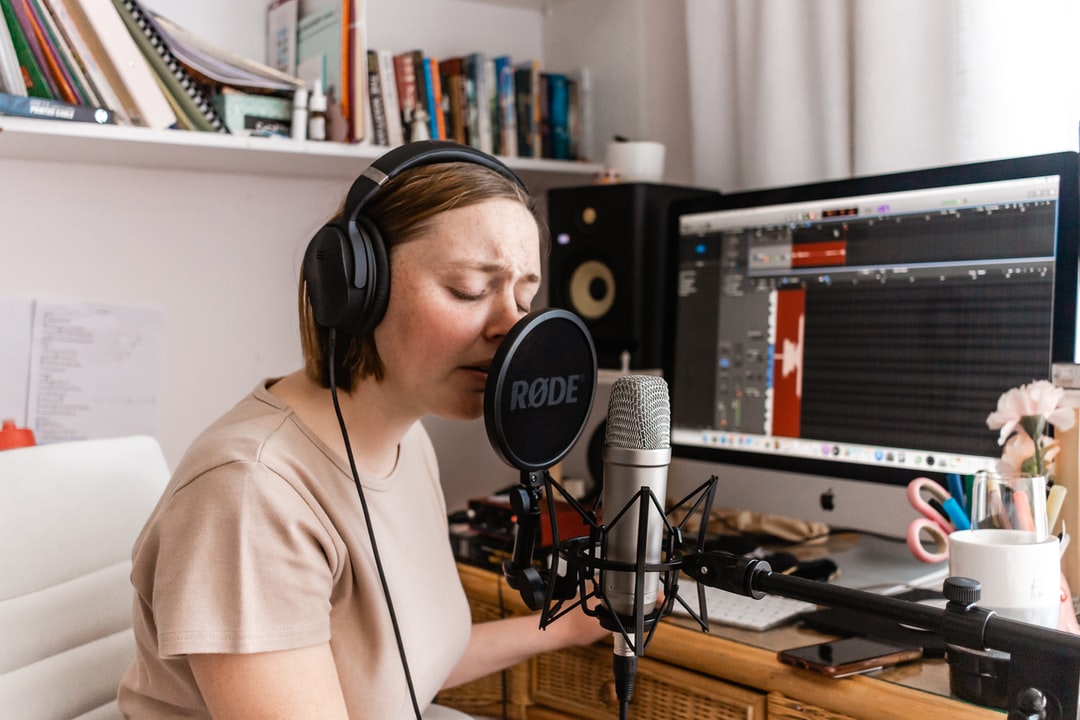 After 14+ months of making videos, I've personally been on the hunt for the best microphone for YouTube.
If you want to be a successful content creator, you need to sound good.
You can honestly use a webcam to record your videos, but you'll want a great microphone that will help your voice come across as clear as possible.
Nothing makes a viewer close your video faster than bad audio, and you can probably relate.
In this blog post, I will give you the master list of the 7+ best microphones for YouTube, which are used by some of the biggest content creators online.
You'll find mics that use XLR but also USB alternatives for ease of use, and you can find an explanation of the tech further down the post.
What is the best microphone for YouTube?
The best microphones for youtube (ranked and reviewed) are listed below:
Requires XLR interface
Overview
A great and professional microphone is one of the most important things a content creator can have, and in most cases audio trumps video.
The Shure SM7B is a professional quality grade, large-diaphragm condenser microphone that delivers an accurate and detailed sound.
You can use it for voiceovers and podcasting and it's a dynamic microphone that reproduces the vocal frequency the best out of all microphones in its category, making it one of the best microphone for YouTube.
💡
Highlights
Designed to work well with vocals and many other instruments.

Large-diaphragm which helps reduce popping and breath sounds.

Especially popular with YouTube content creators who want a clear, warm sound in their videos, lows are perfectly balanced.
💳
Pricing
So what will you have to pay for the #1 pick on this list? Roughly $399 is the price range and it can vary across retailers but be prepared to pay a few hundred to get the Shure SM7B.
The Shure MV7 is way cheaper, hovering around $249 but this is for a few reasons that we'll get to in a moment.
USB equivalent, the Shure MV7The Shure MV7 is also another top pick if you want to get this mic without an XLR cable, meaning that it's plug and play through USB.
The key difference is that MV7 is specifically designed for speech and vocals, like YouTube, podcasting, and singing.
SM7B is the powerhouse and can be used to record everything including instruments, acoustic guitars, rap, rock, etc.
Bottom Line
The Shure SM7B is a very popular microphone among the biggest YouTube content creators.
The Shure MV7 is a microphone that is perfect for YouTube creators due to its high quality and simple USB connectivity.
The most important part of the microphones is the sound quality.
The Shure SM7B and MV7 are both professional microphones that are built to do their job perfectly with a high-quality sound, so you can't really go wrong with either of them.
Requires XLR interface
Overview
This microphone is a solid choice for content creators, especially if you're looking to upgrade from the built-in microphones in your camera.
It has an excellent frequency response and features a cardioid pickup pattern to help eliminate background noise.
Its sound quality is excellent for voiceover or podcasting applications, but it can also be used for recording musical instruments and as a microphone for youtube.
💡
Highlights
Captures the natural depth and clarity of vocals, acoustic instruments, and more.

Provides exceptional clarity and detail with minimal coloration.

Designed to provide outstanding performance for home studio recording, podcasting, spoken word, and voiceover use.

It uses a cardioid polar pattern (unidirectional), so you can record in any environment.

It's a large-diaphragm condenser mic, so it has a wide range of use, making it a great value.
💳
Pricing
The AT2035 sits at a comfortable $149 on Amazon and it's a great price for the quality that you get.
There is also the option to get a podcasting kit with an adjustable boom arm and shock mount for an extra $50 and it's definitely worth it to make your life that much easier.
The AT2020 is even cheaper with a price of around $99 if you're on a tighter budget.
Bottom Line
If you're interested in recording your own videos for YouTube or other content creation purposes, you're going to need a good microphone.
The Audio-Technica AT2035 is a high-quality microphone that is popular among content creators and is actually used by some very popular people on YouTube.
It is worth noting that this microphone needs an XLR interface, which means you will need a mixer to get the best sound quality from this microphone.
A good alternative that is also popular is the Audio-Technica AT2020, which might be a bit cheaper in pricing.
Requires XLR interface (Rode NT is a USB alternative)
Overview
Rode NT1-A is an advanced large-diaphragm side-address condenser microphone that delivers broadcast-quality audio for a wide variety of recording applications.
It features a 1" true condenser capsule, and it uses only the highest quality components throughout.
The Rode NT1-A is a microphone that is almost completely made of metal and has a solid feel and is one of the best mics in the industry together with the Shure SM7B and the Audio Technica AT2035.
A great alternative to this microphone is Rode NT-USB, which as the name implies, is plug-and-play through USB.
Just note that XLR mics with an audio interface always have superior sound quality.
💡
Highlights
Professional sound quality.

Excellent noise cancellation.

Gain control function.

Great value for money.

Attenuation of the low frequencies.

Ideal for singers, vocalists, vloggers, podcasters, YouTubers, multimedia, and online gamers.
💳
Pricing
You can grab the Rode NT1-A with the included shot mount and XLR cable for around $299 and its sibling the Rode NT-USB for roughly $179 which is way cheaper.
Bottom Line
Excellent sound for a great price, the Rode NT1-A is a microphone for YouTube videos that is suitable for vlogs, podcasts, voiceovers, interviews, online collaborations, and live streaming, etc.
It's arguably one of the most popular mics on YouTube and for a good reason.
If you are looking for a mic that supports USB and with a similar quality, the Rode NT-USB is an excellent choice for ease of use, all for a similar price, with the trade-off sound quality.
Overview
Focusrite Scarlett Studio Pack is an excellent home recording and studio package for content creators.
It includes an audio interface and a great microphone in its class.
It also has all the additional features needed to get started with studio recordings, such as an XLR cable, pop shield, and stereo headphones.
And once you feel like upgrading the mic, you already have the audio interface ready to go, just pop in one of the best microphone for YouTube and you're good to go.
💡
Highlights
Easy to set up and use for non-technical users.

Plug n play with both Mac and PC.

Solid and robust components with a high-quality interface that is easy to use and set up.

It offers a great value for all home recording needs.
💳
Pricing
If you want to invest in Scarlett Studio Pack you'll have to dish out $279 for it which might seem a bit pricey, but remember that you get a ton of stuff with it, not just a great microphone, but also the audio interface, XLR cable, and a set of headphones.
The great thing with the pack is that you already get the interface, so if you want to upgrade the microphone in the future, you have everything for it.
Bottom Line
The Focusrite Scarlett Studio Pack is an excellent choice for people who want to start recording and need a great microphone for youtube, and it's also great for mixing audio in their home together with a DAW.
The pack includes a studio microphone and a high-quality audio interface, providing a great value for the price.
All of the components are plug and play, which makes it easy to get started recording.
Overview
Blue Yeti is a USB microphone that can record crystal clear audio on your desktop, laptop, or tablet.
This multi-pattern USB microphone and its 4 pattern selection modes (stereo, cardioid, omnidirectional, bidirectional) are designed to capture every nuance of the human voice.
The Blue Yeti features a zero-latency stereo headphone monitoring jack that lets you listen to what you're recording in real-time.
💡
Highlights
Easy to use and easy to set up, plug and play from unboxing to recording in minutes.

Amazing sound quality with a large-diaphragm condenser microphone with multiple pattern selection.

Simple controls, no complicated menus to navigate

Affordable and built to last, Best bang for your buck
💳
Pricing
The Blue Yeti X can be bought for around $169 on Amazon and its little brother the Blue Yeti Nano for $99.
Great value overall for these microphones, but you might also consider the better Audio Technica AT2035 for a similar price.
Bottom Line
The Blue Yeti is a fantastic microphone for people looking to improve their audio quality without spending too much money.
If you're looking for a microphone that sounds great, is easy to use, and won't break the bank, the Blue Yeti is the way to go.
There are other microphones out there that cost quite a bit more but will not get you any better sound quality than the Blue Yeti.
Overview
Elgato Wave:3 is an awesome microphone for YouTube and includes a ton of features for customization.
It is a dynamic microphone with clear and precise sound, has multiple features that allow you to change the frequency response, noise-canceling, or voice/game-only modes to your liking.
The three different mounting systems enable you to place it wherever you want and swivel or rotate it accordingly.
A great microphone overall for YouTube.
💡
Highlights
It is a high-quality microphone with high build quality.

The sound is crystal clear with noise cancellation.

It is compatible with most computers and devices.

It's easy to set up and also has a ton of functionality as well.
💳
Pricing
You can grab the Elgato Wave:3 for roughly $149 which is also a great mid-tier price for these microphones.
Bottom Line
The Elgato Wave:3 is an awesome microphone for YouTube.
It has a ton of features that allow you to customize your vocal quality and is a great piece of audio equipment to have if you are a professional YouTuber, or if you are just getting started with YouTube as well.
Overview
HyperX QuadCast is an awesome microphone for YouTube and especially streaming and gaming with its eye-popping design.
Its unique design makes it stand out from the crowd and it delivers high-quality audio with excellent detail and clarity.
It's also flexible, so you can move around more freely while you're having fun online.
With advanced features, stunning RGB lighting effects, and a super-cool design, it's perfect for streamers and YouTubers looking to sound their best.
It's also ideal for gamers who want an edge in multiplayer action with zero background noise.
💡
Highlights
Stylish design

High quality and clear voice recording in digital mode

Low latency and ergonomic design

Perfect for streaming, gaming, YouTube, and much more
💳
Pricing
You can find your very own HyperX Quadcast for the price of $139 in most cases and it's the same price range as the previous mics on the list.
Bottom Line
The HyperX Quadcast is an awesome microphone for youtube, gaming, and streaming.
The design is eye-popping and the sound is clear. Plus, the microphone comes with built-in volume control and a mute switch.
It's a great microphone for those looking to up their YouTube game and create awesome YouTube videos.
What are the best lavalier microphones for YouTube?
What are the best shotgun microphones for YouTube?
Why do you need a microphone for YouTube?
If you are going to be a content creator on YouTube, you need to know how to make videos, but the real secret to making a good video is all about the microphone.
How many times have you come across a video vid crap audio, and although the message in the video was probably good, you couldn't stand watching it.
Either you couldn't hear what they said, or there were random disturbing noises.
Bad audio tanks the quality of a video, makes you look like an amateur, and you'll get negative comments real fast.
Do yourself a favor and upgrade your audio before upgrading the video quality.
Frequently Asked Questions
What is XLR?
XLR3 is a three-pin style cable and is the most common type of XLR cable used in professional microphones and the standard for high-quality audio inputs.
It's leaps and bounds over a regular USB connector as it sends high-quality and balanced signals that isolate noise.
The only issue is that XLR mics with XLR cables require some sort of audio interface or mixer, or otherwise, your computer can't interpret the signal coming in.
If you choose to invest in a quality microphone for YouTube, also consider getting a DAW to capture your recordings.
Which microphones do big YouTubers use?
Joe Rogan, 7M+ Subs: Shure SM7B
Gary Vee, 2M+ Subs: Shure SM7B
Kraig Adams, 600K+ Subs: Rode NT-USB
The Minimalists, 300K+ Subs: Shure SM7B
How do I choose a microphone for YouTube?
You probably Googled "best microphone for YouTube" and found over 350.000.000+ results, and that's a lot.
To be honest, I don't think there is a single best microphone for everyone, but you'll find the absolute best ones on this list.
Either decide if you want superior audio quality, then pick an XLR mic with an audio interface.
If you can't be bothered with tech, buy a USB mic of higher quality.
Both alternatives are in the top 7 in this blog post, and you can't go wrong with either of them.
Which microphone is best for recording?
Vlogging? YouTube? Live streams? Podcasts? Since recording a video is the best way to communicate your thoughts to a large audience, it's important that you use the right tools.
For singing, vocals, recording instruments, and even for high-quality podcasting, I would go with the best mics on this list with an audio interface, like the Shure SM7B, Audio-Technica AT2035, or Rode NT1-A.
The best microphones for YouTube, streaming, and gaming includes the above but also the Blue Yeti microphones, HyperX Quadcast, and the Elgato Wave.
What's better than a blue yeti?
There are plenty of other alternatives on this blog post that are better than a Blue Yeti microphone, like the Shure SM7B, Audio-Technica AT2035, or Rode NT1-A.
But what makes Blue Yeti so great is the ease of use through USB, they sound great out of the box, and are affordable, so a great pick for being one of the best microphone for YouTube.
Wrap Up
Although we said this list contains the best microphones for youtube, it's important to point out that every content creator is different.
What works for one person may not work for another.
We've ranked these microphones in order from most recommended to least recommended, but don't be discouraged by a lower ranking.
These are simply our opinions after carefully researching the microphones, so adjust the rankings to fit your own needs.
Thank you for reading and we hope you enjoyed this list!